many start-ups either end-up paying too much tax or, worse, get into tax problems due to poor planning and execution?
TDS is required to be deducted @ 10% even on Telephone & bandwidth charges paid by the company?
Late payment of TDS attracts interest @18% p.a. and penalty upto TDS amount and also risk imprisonment of upto 7 years?
Delay in filing of TDS return attracts late fee of upto INR 200 per day?
Penalty of Rs 100 per day is applicable for delay in issue of TDS certificates?
Delay in deposit of Service Tax attracts late interest fee upto 30% p.a. and penalty of INR 100 per day?
In certain cases service tax is to be deposited by service receiver and not provider?
Late deposit of Delhi VAT could attract Late interest fee of 15% p.a. and penalty of upto INR 200 per day?
Branch Office / Liaison Office / Project Office
Various type of entities

A foreign company can set-up an entity in India choosing following of the most common forms:

Private Limited Company (under Companies Act, 2013):

These are most common form of entities with share capital and limited liability. Pvt Ltd Company is free to undertake all types of activities except those which are barred by law. Please note that investment in Pvt Ltd company shall be subject to FDI norms.

Project Office (established under RBI guidelines):

Foreign companies can set up temporary project offices in India for carrying out activities related to that specific project.

Branch Office (established under RBI guidelines):

Foreign companies which are into manufacturing and trading activities abroad are permitted to set up branch offices in India for various purposes like rendering of professional and consultancy services, export/import of goods etc. Branch offices are not permitted to carry out manufacturing activities on their own.

Liaison Office (established under RBI guidelines):

Liaison Office is a kind of representative office which is set up to understand the business and investment environment. It is barred from taking up any commercial/industrial/trading activity and its role is limited to aggregation of information and promotion of exports/imports. It has to meet the expenditure out of inward remittances received from the parent company.
Investment Norms:

Investment and acquisition of equity shares of a Company can be broadly divided into two categories:

1. Investment under automatic route and
2. Investment under Government approval route.
The automatic route requires no requirement of any prior regulatory approval for investment in equity shares of an Indian business and only post facto filing/intimation with the Reserve Bank of India within 30 days of receipt of investment money in India and filing of prescribed documents and particulars of allotment of shares within 30 days of allotment of shares to foreign investors.
Foreign Direct Investment of upto 100% is allowed under the automatic route in most activities/sectors in India. Investment in activities / industries where automatic route is not available can be made with the approval of the Government under the Government Approved FDI method.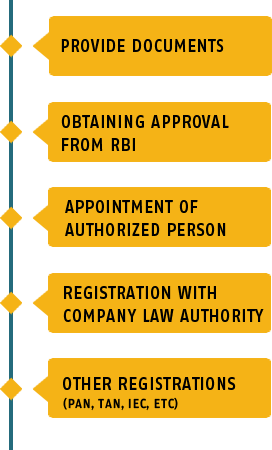 Post Registration Services:

Recruitment of Personnel : We recruit Marketing, administrative and other personnel
Opening of Bank Account
Administrative, Legal, HR and IT Support
Accounts and Book Keeping Outsourcing
Preliminary and ongoing regulatory and Statutory Compliances
Drafting of agreements with vendors/ customers and legal agreements