Do You know?
many start-ups either end-up paying too much tax or, worse, get into tax problems due to poor planning and execution?
TDS is required to be deducted @ 10% even on Telephone & bandwidth charges paid by the company?
Late payment of TDS attracts interest @18% p.a. and penalty upto TDS amount and also risk imprisonment of upto 7 years?
Delay in filing of TDS return attracts late fee of upto INR 200 per day?
Penalty of Rs 100 per day is applicable for delay in issue of TDS certificates?
Delay in deposit of Service Tax attracts late interest fee upto 30% p.a. and penalty of INR 100 per day?
In certain cases service tax is to be deposited by service receiver and not provider?
Late deposit of Delhi VAT could attract Late interest fee of 15% p.a. and penalty of upto INR 200 per day?
Limited Liability Partnership
What is LLP?
A Limited Liability Partnership is a hybrid of Company and Partnership form of business. It combines the advantages of both the Company and Partnership into a single form of organization. It enjoys the benefits of having a separate legal entity, perpetual succession and a limited liability.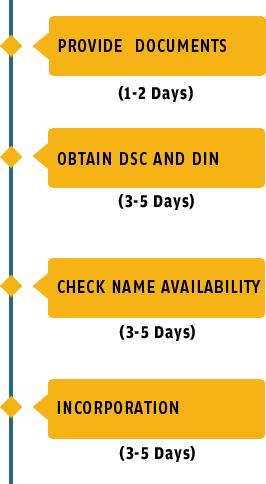 1. Pan Card of All partners
2. ID Proof of all partners
3. Address Proof of all partners
4. Proof of registered address
5. NOC from the owner of registered office
6. ID proof of owner of registered office
How is LLP different from Private Limited Company?
Merits
Lower cost of formation
LLP requires minimum 2 partners. There is no limit on maximum partners
No requirement of minimum contribution
Audit is not compulsory till contributions crosses 25 Lakhs or turnover crosses 40 lakhs
Lower compliance burden
Profits of a LLP can be easily withdrawn by the partners and there is no Dividend Tax liability
Demerits
LLP Can't raise money from public.
Any act of the partner without the other partner, may bind the LLP
Cant issue ESOPs/Sweat Equity