many start-ups either end-up paying too much tax or, worse, get into tax problems due to poor planning and execution?
TDS is required to be deducted @ 10% even on Telephone & bandwidth charges paid by the company?
Late payment of TDS attracts interest @18% p.a. and penalty upto TDS amount and also risk imprisonment of upto 7 years?
Delay in filing of TDS return attracts late fee of upto INR 200 per day?
Penalty of Rs 100 per day is applicable for delay in issue of TDS certificates?
Delay in deposit of Service Tax attracts late interest fee upto 30% p.a. and penalty of INR 100 per day?
In certain cases service tax is to be deposited by service receiver and not provider?
Late deposit of Delhi VAT could attract Late interest fee of 15% p.a. and penalty of upto INR 200 per day?
What is One Person Company?
One Person Company (OPC) is as good as Private Limited Company having only 1 Director and 1 Shareholder. This concept was introduced in Companies Act, 2013 to allow a single entrepreneur to start a company with less compliance requirement.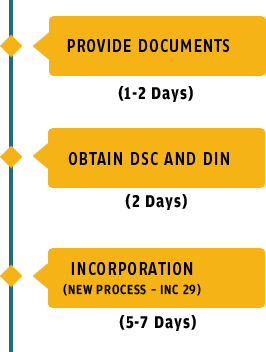 Under new process….OPC can be registered in 5-10 days. Form INC-29 is submitted to MCA with all the relevant documents. If the name is acceptable, MCA will issue incorporation. Else, resubmission with new name may be required.

1

PAN CARD of all Director

2

Address Proof of all Director

3

Photographs of all Director

4

DIR 4 on Rs.10 Stamp

5

Company Address Proof – Lease Deed with rent receipts

6

NOC from owner/ Director

7

Proof of registered address

8

INC 9

9

INC 10 – Notarised

10

Affidavits and Declaration on Rs.100 Stamp paper

11

DIR 2
# There may be requirement of any other document which we will ask while processing the Company.

Merits

Limited Liability Protection To Directors and Shareholder
One Shareholder and One Director
Limited compliance requirements
Can be easily converted into a Private Limited Company
Tax Flexibility and Savings
Perpetual Succession

Demerits

Suitable only for small business
Maximum paid up capital of 50 lakhs and turnover of 2 Crores
Requirement to appoint Nominee