many start-ups either end-up paying too much tax or, worse, get into tax problems due to poor planning and execution?
TDS is required to be deducted @ 10% even on Telephone & bandwidth charges paid by the company?
Late payment of TDS attracts interest @18% p.a. and penalty upto TDS amount and also risk imprisonment of upto 7 years?
Delay in filing of TDS return attracts late fee of upto INR 200 per day?
Penalty of Rs 100 per day is applicable for delay in issue of TDS certificates?
Delay in deposit of Service Tax attracts late interest fee upto 30% p.a. and penalty of INR 100 per day?
In certain cases service tax is to be deposited by service receiver and not provider?
Late deposit of Delhi VAT could attract Late interest fee of 15% p.a. and penalty of upto INR 200 per day?
VAT (TIN) & CST Registration
Value Added Tax (VAT) is a tax applicable on sale of goods within State. VAT is a state level tax and is governed by different law for each state. For example, in the state of Delhi, any person with turnover exceeding Rs. 10,00,000 in Delhi is required to be registered under Delhi VAT and is liable to collect and pay VAT tax to the state Government. Further, any person purchasing or selling good from/to outside Delhi is also liable to be registered under DVAT in addition to registration under Central Sales Tax Act (CST).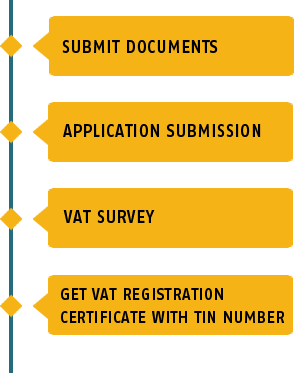 Copy of important documents such as the address proof, ID proof of the proprietor/Partner/Director
Four PP size photographs of the Proprietor/Partner/Director
PAN No. of the Proprietor/Partner/Director
Bank Account Details and Latest Bank Statement
Copy of the rental agreement of the business place
Details of business activities
Partnership deed (in case of a partnership firm)
Bank Guarantee or Surety from 2 existing VAT dealers